Check back often for all the latest Nintendo events. New events are being added all the time.

Picture Gallery
Submit Photo
RULES & REGULATIONS
EN FRANCAIS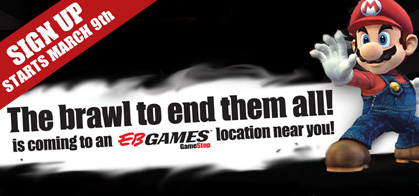 Smash Bros Brawl. Tournament

--TOURNAMENT HAS ENDED--

Winner details coming soon.

-

Important Information

Contestants must be 13 years of age or older to participate.

Only one entry per person is allowed.

Nintendo will supply contestants with Wii remotes to participate in the tournament. No personal equipment allowed.

Ranking will be at random.

Contestants may not choose their own characters.

Contestants have a pre-determined number of "lives" per match. Winner is the last player with live(s) available.

Tournament Levels, Timing and Prizing

Qualifying Rounds

April 4th to April 20th

Fridays (5pm – 9pm)

Saturdays (12pm – 4pm)

Sundays (12pm – 4pm)

1 Single Elimination draw per city per day with a maximum 48 players per draw

1 winner per draw will emerge and move onto the Regional Semi-finals

First round winners receive a Super Smash Bros T-shirt

Regional Semi-Finals
oSaturday, April 26th (12pm – 4pm)
o1 Single Elimination draw per city with 9 Regional Semi-finalists per draw
o1 winner per draw will emerge and move onto the National Final
oNational Finalists receive airfare and accommodations to Toronto for the Finals

National Finals

Saturday, May 3rd (12pm – 4pm)

1 Single Elimination draw with 5 National Finalists

1 National Champion receives a trip for two to the "Nintendo World Store" in New York City


GRAND PRIZE
Win a Trip for 2 to the Nintendo World store in NYC!

Super Smash Bros. Brawl prizing will be awarded to all semi-finalists.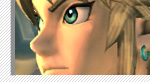 TOURNAMENT HAS ENDED